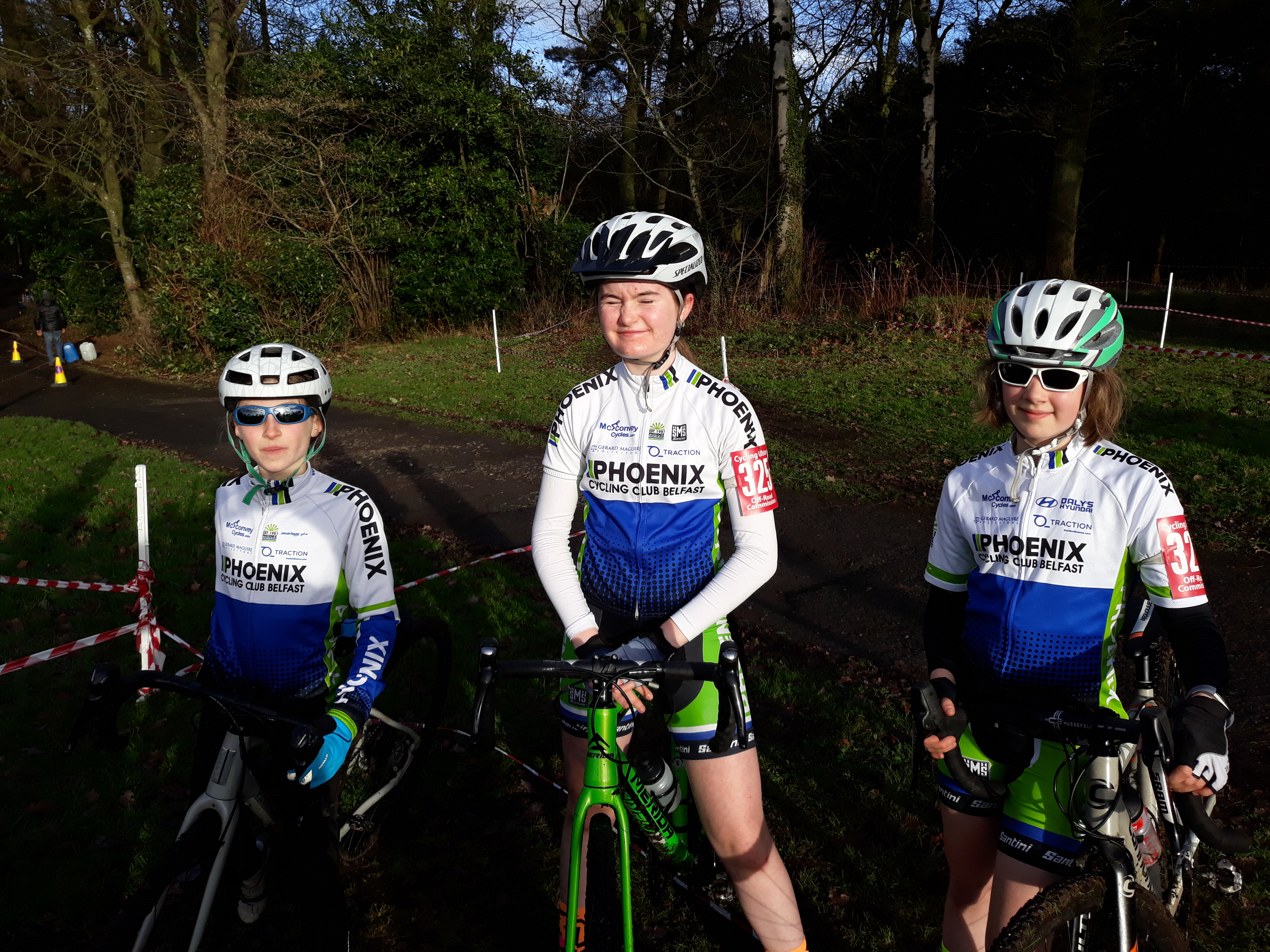 2018 Ulster CycloCross Championship
Yesterday's Ulster CX Championship took place in  brillant sunny winter weather  and was organised by Island Wheelers over a very tricky course for the adults around Windmill Wood's ,  it was technically challenging, muddy and  had some slippery parts and heavy grass sections.
The non championship race produced some excellent racing and Phoenix were represented in the Under 10 and under 12 age bracket, with some excellent displays of bike handling skills in extremely slippery conditions . In the under 10 race Daniel Daly produced the ride of his season and took 3rd place just missing out on 2nd place by 3 seconds , he was piped at the last sections of jumps before the finish line, more practice needed for next year. ( Also heard the comment from Daniel,  Father Christmas is bringing a new mountain Bike for next year !!) and also Padraig Mc Auley finishing in the top 10 in a very competitive section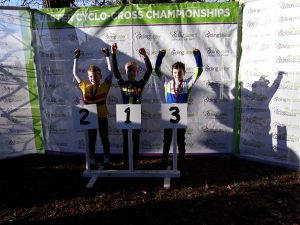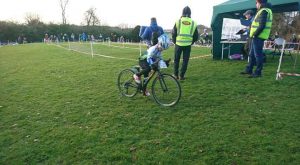 Next up was the Under 12's race and again we had riders in the top 5 , Tori Moffett finishing 2nd and  the ever smiling Eva Daly finishing 5th, well done to both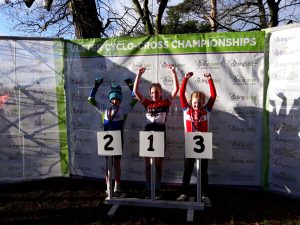 After these races we moved onto the full adult course and we had both Cara Moffett and Lucy Brown in the Under 14 race , this was going to be hard going , the course had some very tricky  off camber sections leading into a very wet , muddy downhill section , some sections the only way to tackle them was to get of the bike and run the section.
On the first lap between Cara  slipping off and  her chain coming off and then  Lucy had a disaster she broke her hanger again about 200m from the pits and with no spare bike in the pits was left distraught on the  side of the course until someone came up with the idea to use Tori's bike, so she carried her bike to the pits and swapped bikes .  Now if you had Lucy and Tori standing together there is about 10″ of a height difference but we adjusted the saddle and off she went again. On the next time passed pits we wanted her to come in to readjust the saddle , she was having none of it , " I'm afraid of getting caught by the next girl" . On the next time passed the pits she did come in as she had built up a lead over 4th place , off she went and completed the course to take 3rd, Bronze Ulster CX Medal  with Cara finishing 2nd, Silver Ulster CX Medal.
Both of them have competed all season and have enjoyed every race , I think !!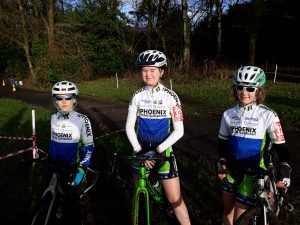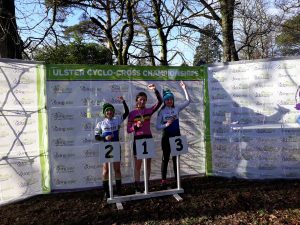 In the adult M40 Section we had Christian Nachgatall, Daniel Daly, Seamus Mc Auley and ED Boyle, by this stage the course was well cut up and with the rain falling a little bit the course  was starting to get well watered from above !! Christian was leading on the first lap with the chasers all very close behind, at the end of the race Christian took 2nd place and Silver Medal with Daniel up next in 19th spot, Ed 21st and Seamus 25th and the guys took 3rd place in the team event overall.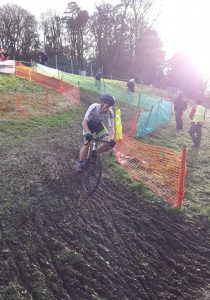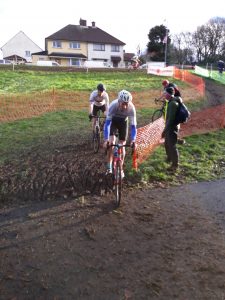 Well done to all, next up Irish CycloCross Championships on Saturday 12th January for Junior and Sunday 13th January 2019 , at Fota Island Cork.
10th December 2018
by Peter Brown