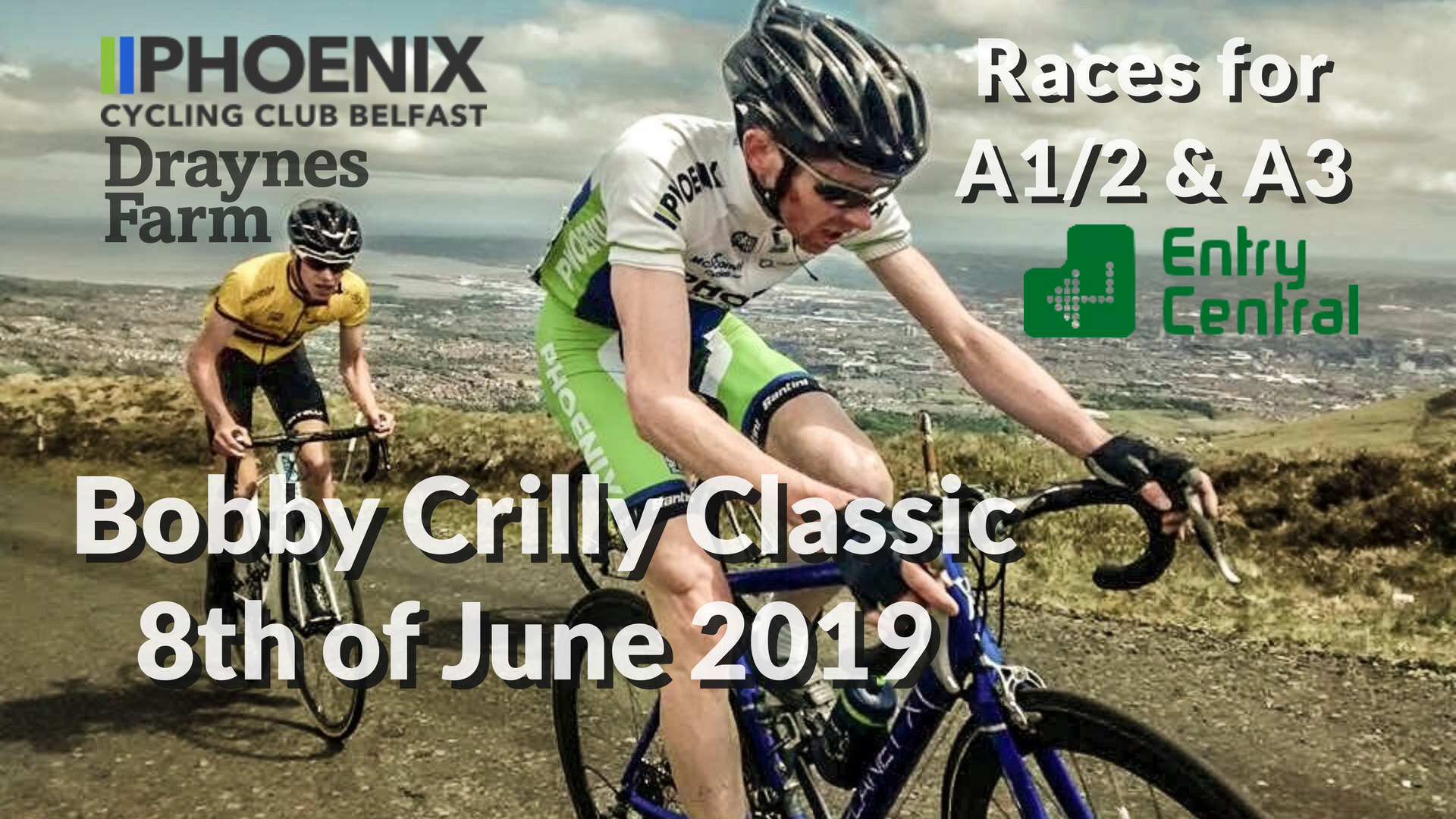 Bobby Crilly Classic 2019 open for entry!
The Draynes Farms Bobby Crilly Classic. (A1/2 & A3 races)
The course will be the same as last year with the iconic Divis mountaintop finish. However, as with last year due to a course alteration over safety fears we can only run 2 concurrent races on the day.
This year we are pleased to be able to run a combined A1/2 race and a seperate A3 race.
There will be NO race for A4 this year.
Details of the races are:
1. The A1/2 race will be six laps of the circuit (which will be familiar to anyone who has rode the Phoenix GP) then up the climb, approximately 59 miles.
2. The A3 race will be four laps of the circuit then up the climb, approximately 42 miles.
Prizes will be awarded down to sixth place.
The key details are:
• Pre entry via Entrycentral close at midnight on Wednesday 5th June.
• Entry fee via EntryCentral is £15 for senior riders and £10 for juniors (please note juniors will have to pay £15 on Entrycentral and can get the £5 difference back at sign-on due to difficulties with two prices on Entrycentral, sorry for the hassle). Entry fee on the day is £20, £10 for juniors, subject to spaces being available. No refunds to riders withdrawing will be issued.
• Sign on in the Lamh Dhearg centre on the Hannahstown Rd, Belfast. BT17 0LZ. Paste 54.5877,-6.036258 into google maps for a location. No one day licenses will be issued.
• Sign-on opens at 9:00 and will close at 10:00. The neutralized roll out to Nutts Corner will begin at 10:05, with the racing starting at Nutts Corner at 10:30.
Maps of the roll out and race route are as follows:
Map of sign on location to race start location
http://www.strava.com/routes/19023029
map of the circuit:
https://goo.gl/maps/mnHhNoA99X32
The final map shows the climb from Nutts Corner to the top of Divis mountain
http://www.strava.com/routes/18976747
Good luck and I hope you enjoy the event.
For any queries please do not hesitate to contact John Smyth

22nd May 2019
by Jerry Staple