Tour De Beara
The club runs were down in numbers on Saturday as many members from across the groups headed down to complete the well known 'Tour De Beara' in the south west of Ireland.
This year there was a choice of three routes to complete 85km, 120km, 160km. The starting/finishing point was the picturesque Glengarriff. A wonderful part of the world surrounded by spectacular mountains, ancient oak woodlands and subtropical island gardens. It sounds like a fairytale. Clear water, little stone walls, hidden bridges and rock tunnels. The routes provided the riders with numerous challenging climbs – The Cods Head, Healys Pass and Caha Pass.
As stunning as the routes were they were also very very cruel, especially the 160km route. Riders got the pleasure of climbing the Healy Pass twice!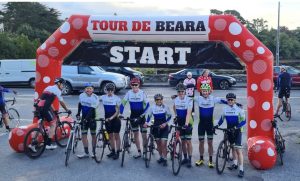 The atmosphere, the camaraderie and the fantastic weather made this an amazing day. A fantastic event which was superbly organised. We all had an amazing time and it's true what they say "the best views come after the hardest climbs".
To those folks involved in organising the event thank you so much for having us. And thank you to the band for playing 'happy birthday' for our extremely embarrassed Club Captain who was trying to keep his birthday quiet 😂😂. It didn't work! Looking through the pictures it seems some of the riders still had enough energy to muster up an artistic picture with their medals 🏅
Until next year!