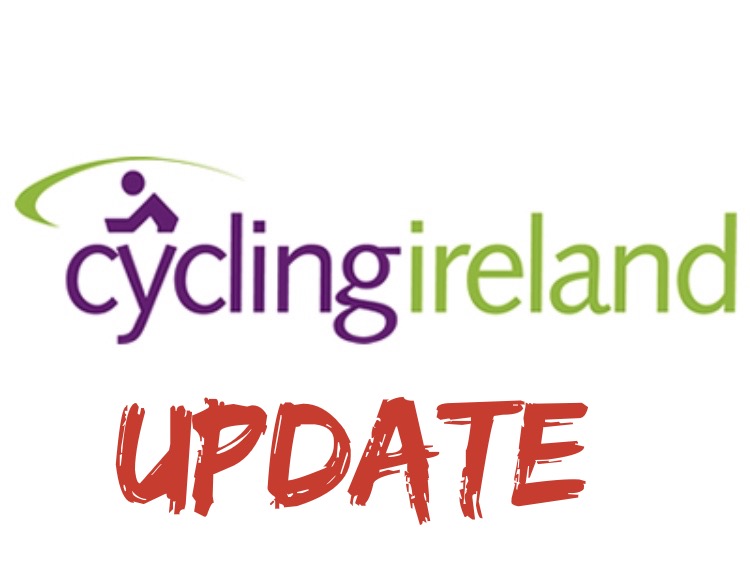 Cycling Ireland extends postponement of events.
25 March 2020
Following the latest Government announcement in relation to Coronavirus (Covid-19), Cycling Ireland wishes to advise members of the cycling community that the postponement of all Cycling Ireland approved events and activities is to be extended up to and including April 19th.
Cycling Ireland fully supports the public health advice and stresses the importance of following HSE guidelines in order to safeguard public health. The current situation has placed considerable financial strain on sports governing bodies, and we want to thank members for their ongoing support through membership. We share in your disappointment at the cancellation of many cycling activities however we will do everything within our power to ensure the smooth return of events and activities as soon as it is safe to do so.
Cycling is encouraged in the following instances while adhering to social distancing guidelines:

Exercising outdoors once per day (solo or with members of your household)
Shopping for basic necessities
Providing care or helping somebody vulnerable
Travelling to/from essential work
Indoor training
Cycling is proven to be beneficial for your physical and mental health, provided that physical distance guidelines are followed. With increased strain placed on our health system, Cycling Ireland would encourage you to ride with extra caution and stick to familiar roads. It is vital that as members of the cycling community we continue to act responsibly so that cycling can be used for transportation and managing our health during this time of crisis.
Follow Cycling Ireland on social media for virtual cycling meet ups, training tips and the latest news.
25th March 2020
by Rebecca Fitzgerald