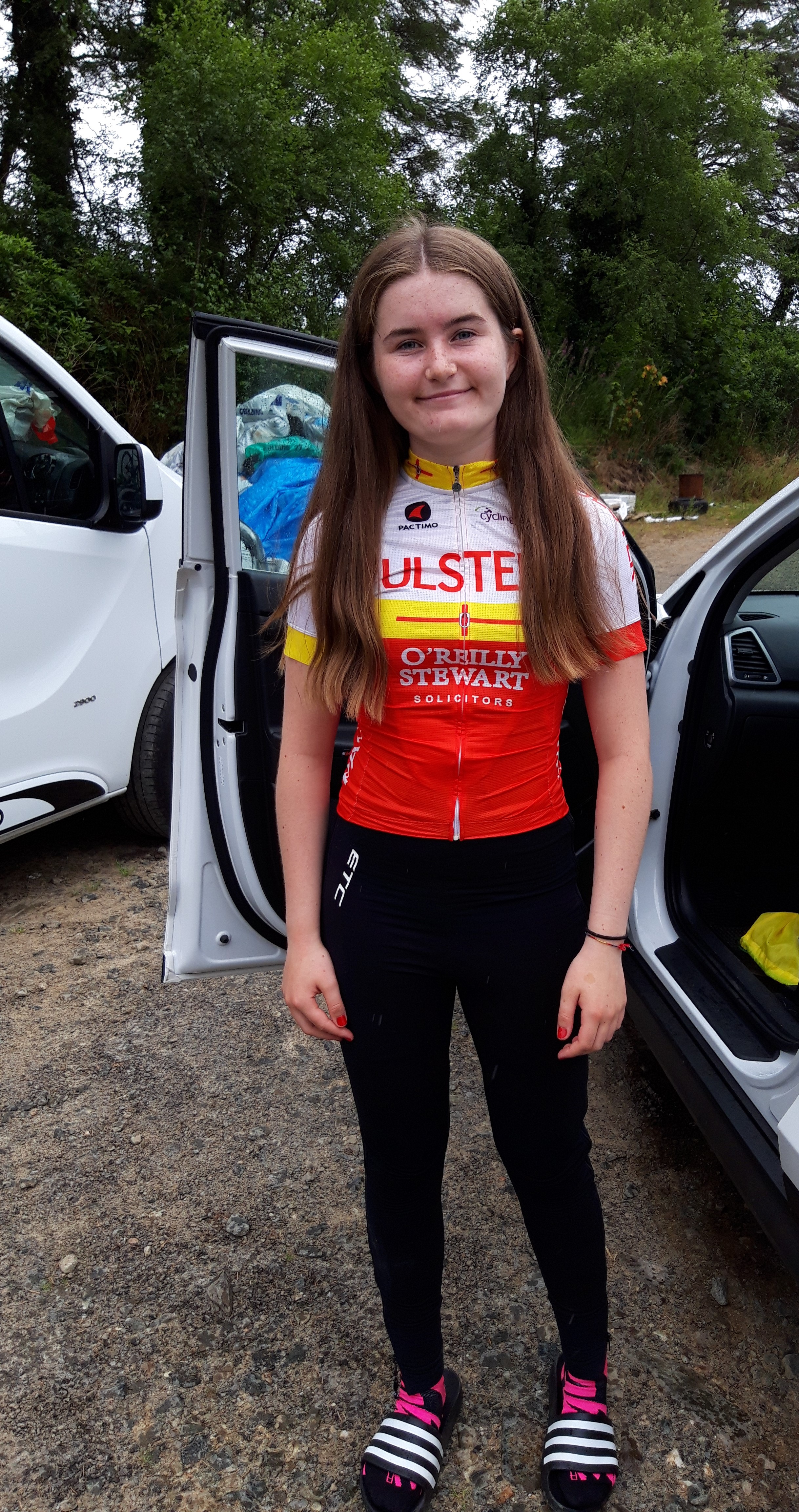 ERRIGAL INTERNATIONAL YOUTH TOUR 2019
This year Errigal was from Saturday 3rd of August until Monday 5th. Errigal International Youth Tour is a three day, four stage race in Donegal which consists of two very hilly road races, a TT and a criterium race. It was going to be my first ever time competing at Errigal but also my first time racing with loads of people from places like the Isle of Man, Scotland,England and all over Ireland.  Luckily enough I was selected to represent Cycling Ulster over the weekend, which was a brilliant opportunity for me to ride as a team of girls my same age.
I had been preparing for Errigal mentally and physically by training with endless amounts of hills but also thinking positively about the weekends racing to come. The week before Errigal I had Ulster Road Championships which went very well and I managed to take a silver in the TT and a silver in the road race. On the week before Errigal I travelled up to do a recce of the courses as I had never seen them before. It made me feel nervous and excited about the events about to happen.
Before the start of stage 1
Stage 1
It was the Saturday morning and I woke up with a nervous feeling in my stomach but I soon got over it once I arrived at sign on and I got settled into the Cycling Ulster tent with my race numbers on and ready to go. The first stage was a 5.96 mile lap which took you around from Churchill-Gartan-Falbane-Carrickascalon-Churchill. The u14 girls and boys had to complete it 3 times. I started warming up on the rollers around 20 mins before my race. Just before it was time for us to start they took us into a holding pen. We were all lined up and then the race was off. It was a challenging course with long drags and unfortunately I took a muscle cramp in my right leg half way around the first lap. I kept riding through it and on the third lap the pain had eased off so I decide I would take advantage of it and give it everything I had to catch other girls as it was a timed race. Luckily I did and finished 8th out of the 17 girls there, which I was very pleased about considering the circumstances.
STAGE 2:
Start of TT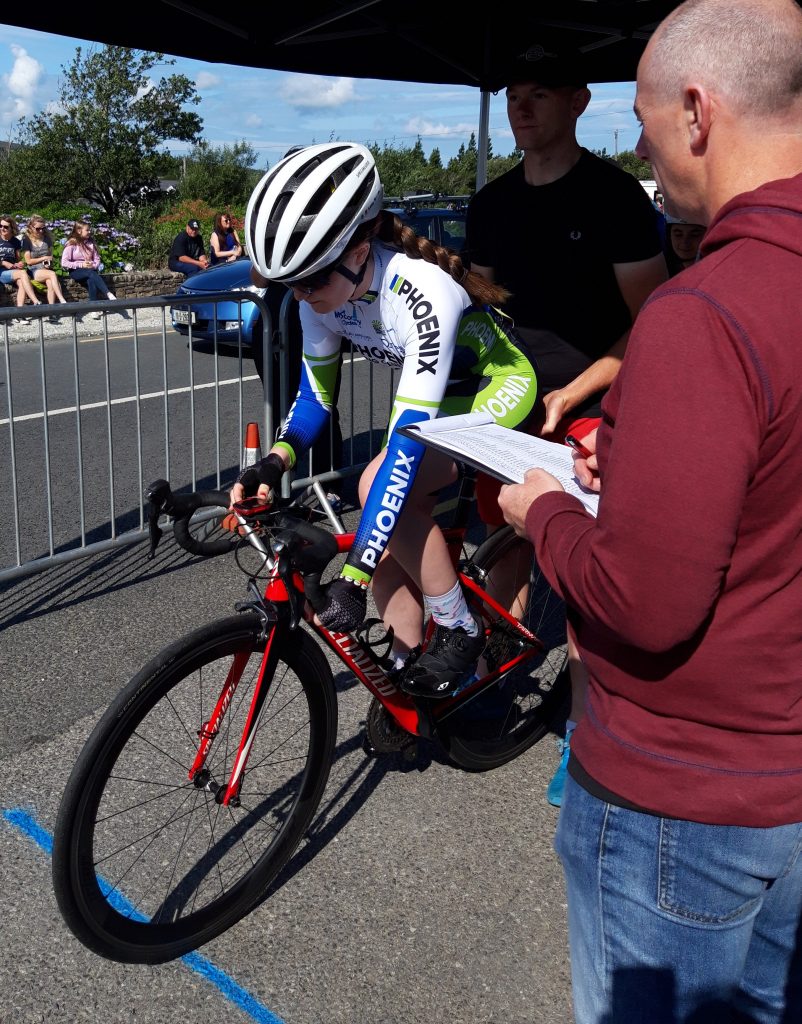 Stage two was on the Sunday morning and my legs were feeling better than the day before and I was raring to go. It was a 3km long hill climb on a road from Dunlewy- Errigal mountain which had a 5% incline. Once I was off I could feel the burn in my legs but I pushed through the pain and the headwind finishing in 5th just milliseconds behind the girl from Scotland in 4th. I was very happy with my result. I had moved up the GC and I was very happy.
STAGE 3:
This stage was on the Sunday afternoon and it was the crit race around Derrybeg industrial estate in Gweedore. I was looking forward to this stage the most as it had a total of 16 corners around a 1.9km lap! This time I had an extra supporter from the club, Karen Jack, my dad's friend, I was so appreciative that she took time out of her holidays to encourage me and get a look into how our races go. We had to ride for 20 minutes plus 3 extra laps. Shortly Into starting, our race broke into bunches and I was in the chasing bunch of 4 girls chasing down the next 2 riders leading the race. I sat in the group for a while and then made an attack with the help of my team mate Katie Reilly who stayed with the group to slow them down and help me make the break, no one followed so I completed the majority of the race solo with a strong headwind on a major part of it. I ended the race coming 3rd place and bagged a jersey and a medal. I was ecstatic!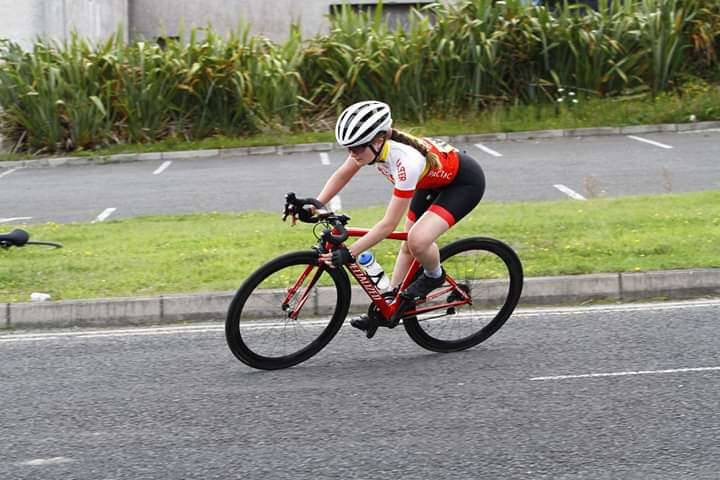 STAGE 4:
The pain on the faces tells the story of Kelloges!!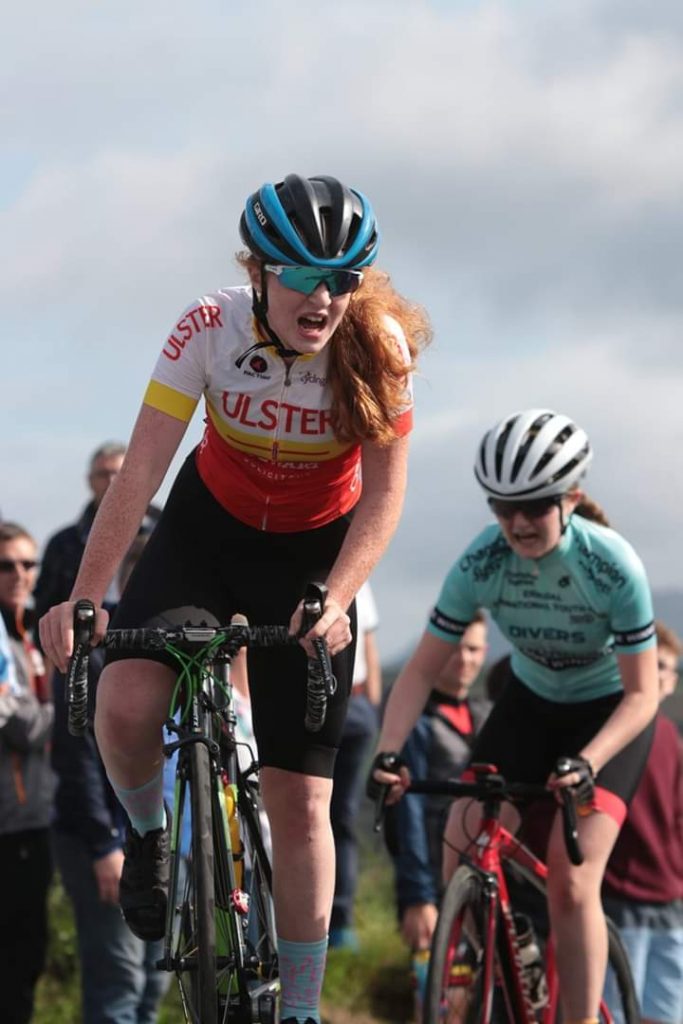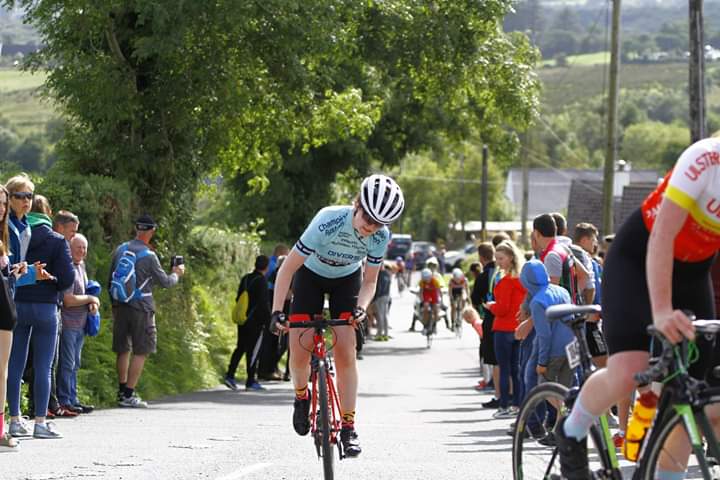 The last stage was another road race it was a 5.98 mile lap with a monster of a climb called Kelloges at the end! Originally we were doing 3 laps but due to a storm warning coming in a bit later in the day they made the races shorter so the u14 girls and boys completed it twice. At the start of the race I was sitting 5th overall in GC with the girl ahead of me only by 8 seconds I had my mind set on those 8 seconds! At the end of the race I managed to finish 9th in a group of people with the same finishing time but that didn't matter because I had gaped the girl I needed to by over a minute and a half, but another rider had stormed through the course and managed to bet me to fourth place in the GC.
OVERALL:
In the end I bagged one jersey, one 3rd place medal and two unplaced u13 medals over the four stages. In the GC I came 5th and 1st unplaced u13 rider and the Cycling Ulster U14 Girls team prize, I was so pleased with how the weekend went and also to be selected by CUYA to be part of the team and a big thank you to all my team mates and I can't wait to compete in more Errigal races in later years!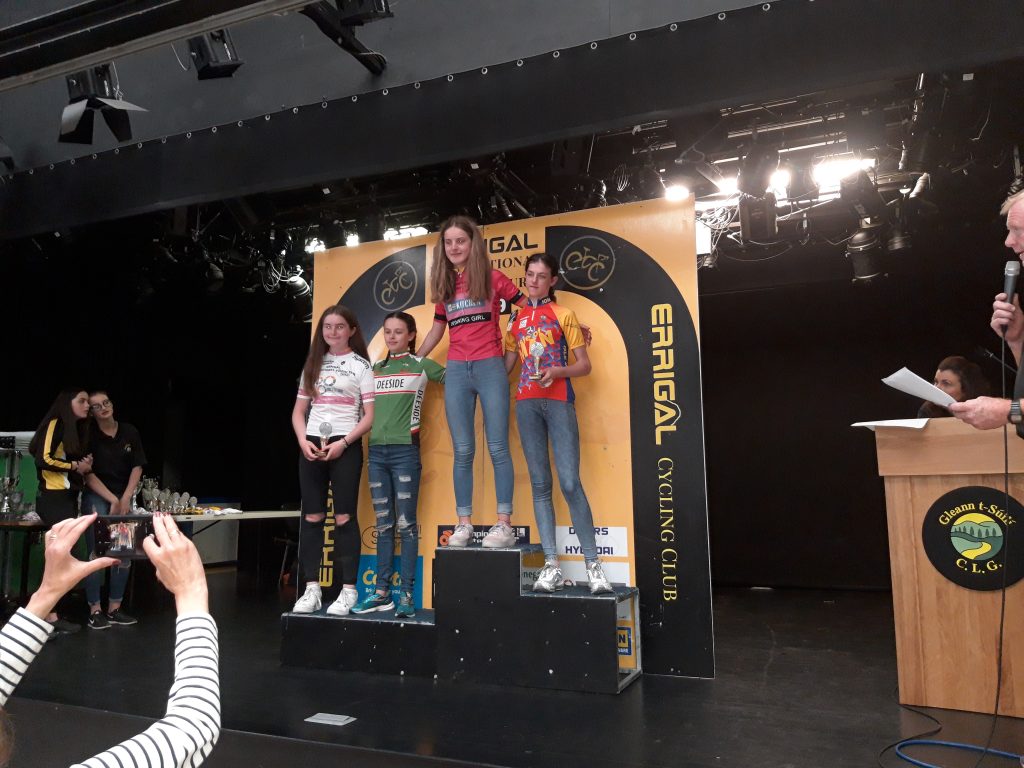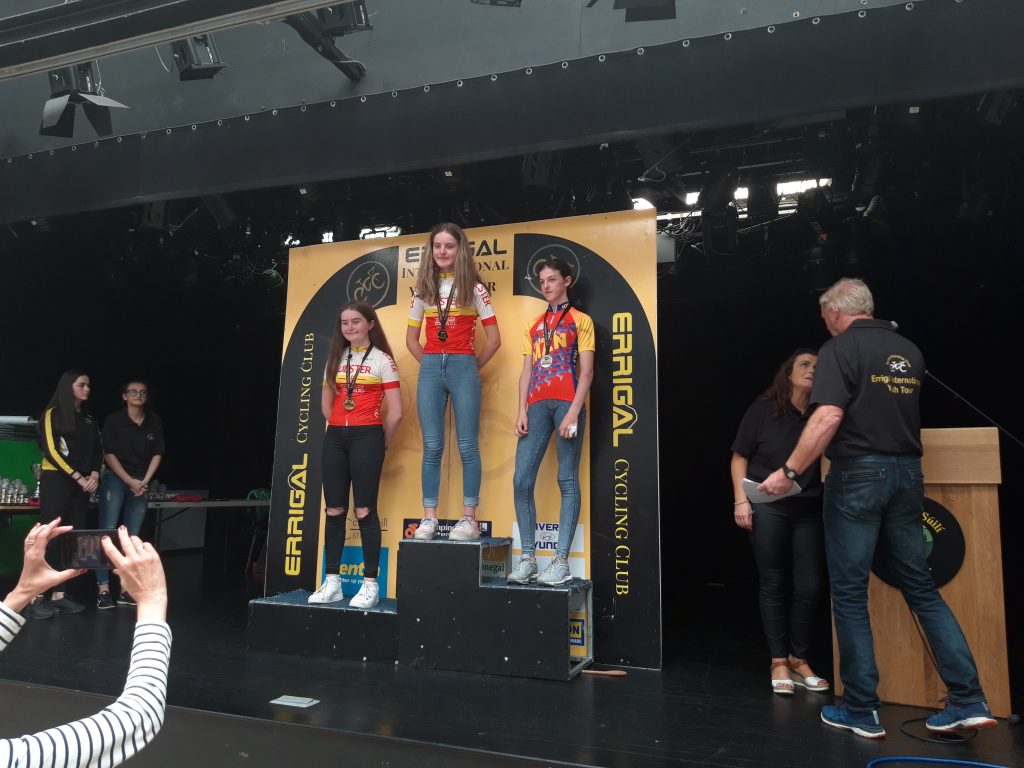 Next up are the National Youth Road Race champs over the weekend of 17/18th August at Mullingar.             
LUCY BROWN
7th August 2019
by Peter Brown