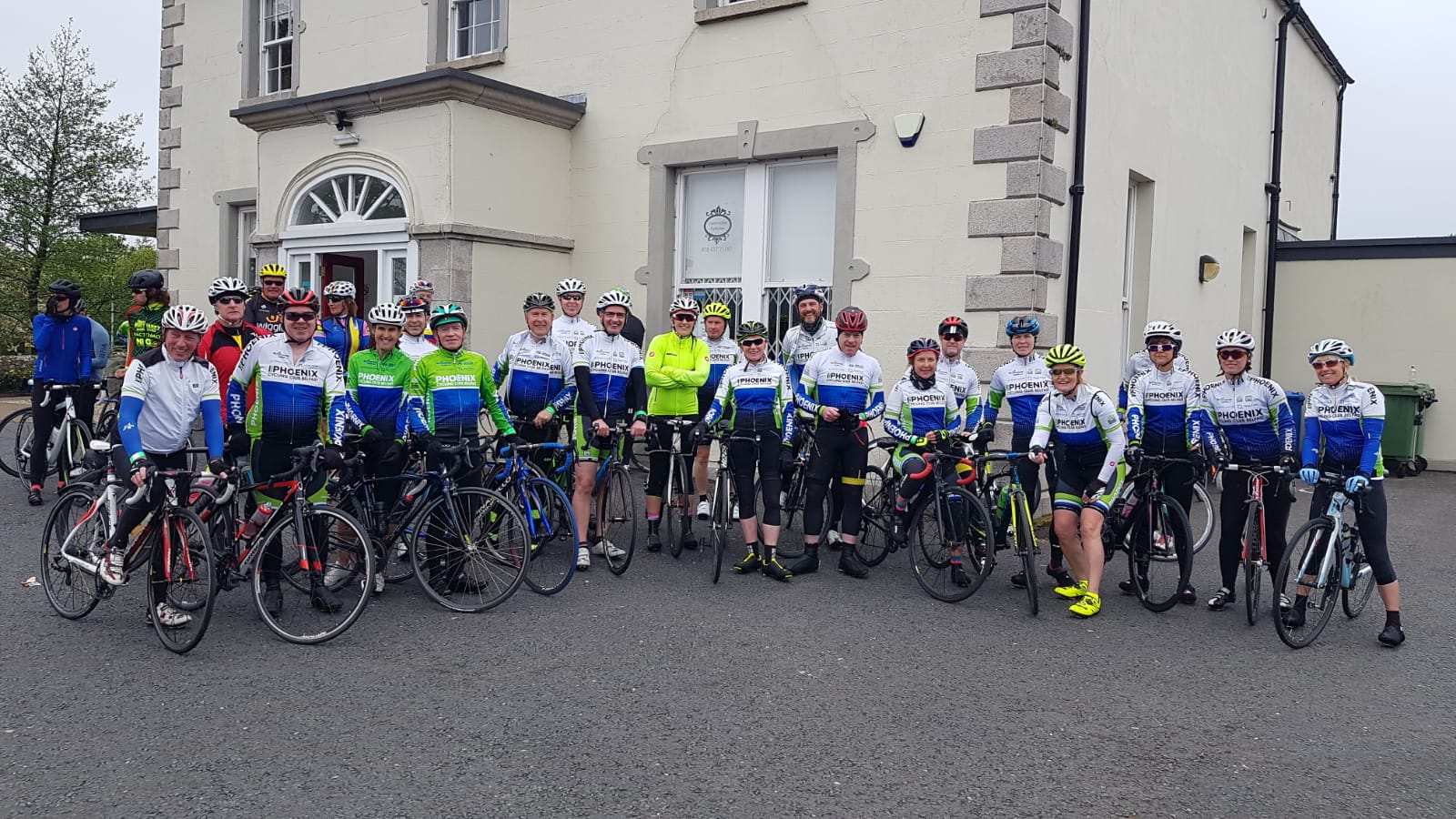 Phoenix Sportive 28th April 2019
Report Complied by Maurice Mc Coy( SlowMo)
The 2019 Sportive in conjunction with Lisburn and Castlereagh Council  was in aid of Autism NI and Cancer Fund for Children and had 2 routes on offer a 50 miler and 80 miler and began at the Racquets Club in Lisburn.
So 182 were out on Sunday's sportive and this meant a hectic start from the Racquets Club. The wise heads of the B2s knew to avoid this and hung back. Karen, Katherine and a few others couldn't resist and they left with the pack, subjecting themselves to the customary mass 20 mile sprint start common to sportives. As Barney led us out of Lisburn, Sue, in a fit of enthusiasm, jammed her chain. Fortunately, as see looked around for help there were enough men about to sort it for her and off we went again.  Probably about 25-26 in the group and with the first part of the route a carbon copy of Barney's now traditional Co Down route there were no surprises up to Kinallen and beyond. Onto the main Katesbridge rd to Castlewellan with a few spits of rain and a decent pace. Then over the horse-shoe bend with Da McCann leading us all up and over; quality never fades! Then onto the fast run into Castlewellan, where despite me busting my manhood at the front, Nigel (cuddly Nigel that is) later declared he was wearing his brakes down at the very same time! Smart ass! Unfortunately, being last to arrive at the pit-stop in Castlewellan, meant we had to take what sustenance was left by the greedy sods gone before us.  This amounted to tea, coffee and bananas. Had to batter the green bananas to death against the table to make them edible, but that certainly done the trick. Not sure how many bananas you can eat before you get the shakes or runs but I think I was safe enough with 4 of them.
When we got to Castlewellan there was dear Karen and Katherine waiting patiently, having been shelled out of the main group somewhat earlier. Apparently they now wanted to join our group to do the long run! Karen especially, as she had been training for a few weeks so could try to drop me later on the run. Not sure why but there might be some history fuelling her obsession!
So I was up for that and at this point the B2s split, with Barney and Gillian taking one half on the shorter route home. That left about 14 of us, B2ers; Karen, Katherine, Liam, Kevin, Adrian, Nigel, PaulH, MichaelQ, me and joined by Damien from the VSG, Eddie (Dromara CC), Siobhan and brother George and a big lad on a super looking red Specialized. Hopefully have got everyone?  So down to Newcastle and into what always seems to be a bitterly cold breeze after that pit-stop. Then around the coastline to Clough and then Downpatrick. Into Killyleagh where we picked up a few stragglers including big Stevie, only getting back into it after a couple of years away.
Pit-stop in Killyleagh with some pics, which I hope Karen can share? Paul also shared some questionable mouldy energy bars but any port in a storm will do fine! Then as the miles and drumlins into Saintfield started to take their toll some riders started to drop off.  Just when I was ready to drop Karen she decided not to risk it and dropped back with Siobhan to pick up some of the stragglers. She's a great girl our Karen with a generous heart! Thankfully the route marked on the road didn't match the published busy route through Carryduff and we headed over to Temple and then on to Lisburn. Dropped off myself to head over to the Mealough rd and home with 82 very enjoyable miles dtd.
The rest headed back to Lisburn for Burger Brian's treats. Fantastic day, great organisation and a great advert for the PCC.  Thanks to all. Cheers Mo.
The Committee would like to express our sincere gratitude to each and every one of the 182 people who participated in our Annual Sportive today. This I'm sure is a great benefit to our charities Autism NI and Cancer Fund for Children. Thank you to Sarah-Jayne Cassells from Autism NI and Sarah from the Cancer Fund for Children for attending and speaking this morning.
Huge thanks also to our sponsors: Lisburn & Castlereagh City Council, McGivern & McGoveran Centra NI for the food stop and McConvey Cycles for the backup support.
Thanks also to Brian Henry for once again delivering a superb post ride BBQ, as well as both of our venues the Lisburn Racquets Club and The Lodge Castlewellan.
Last but certainly not least, thanks to all of our Marshall's and volunteers who without them, these events would not be possible.
Until next year!
2nd May 2019
by Peter Brown