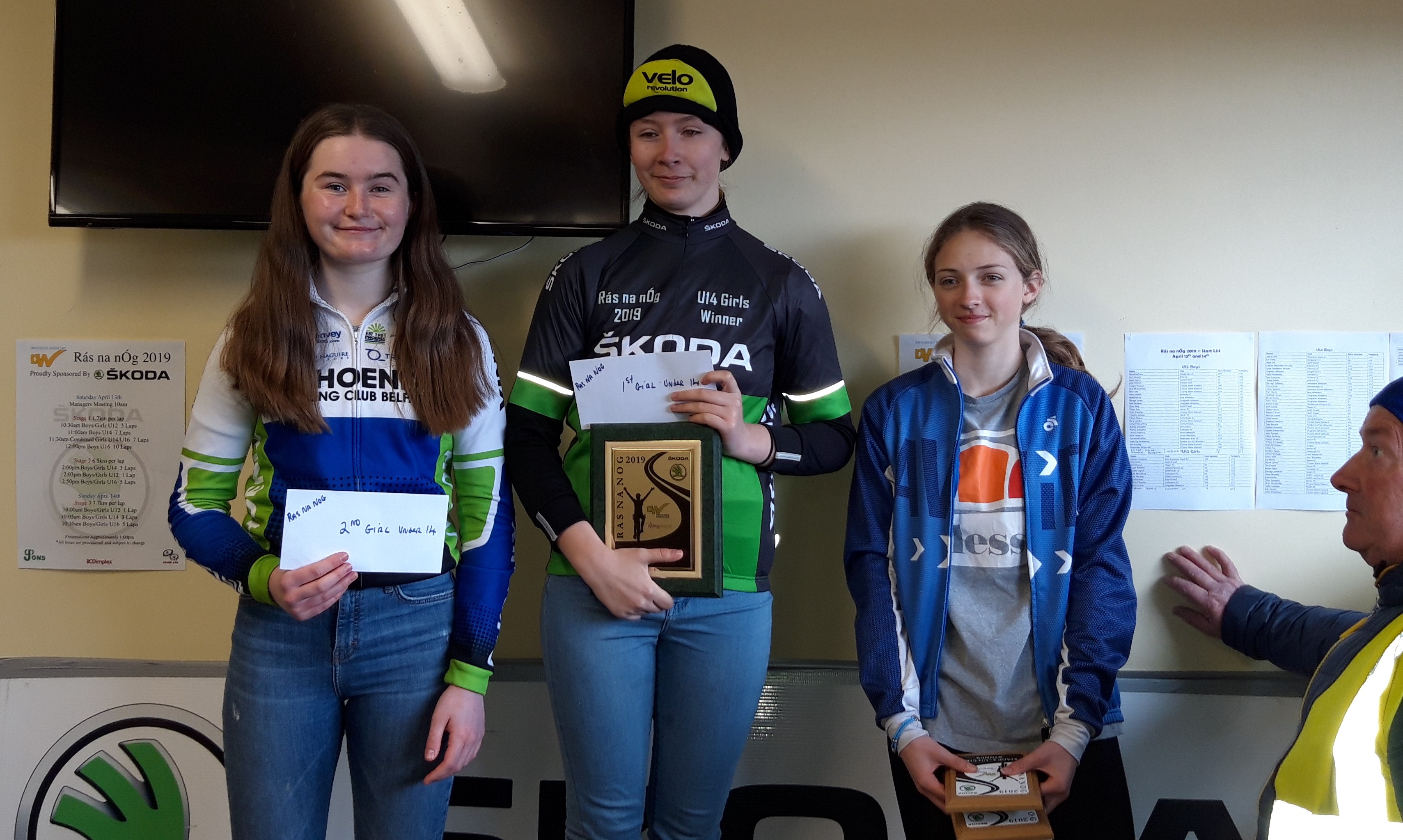 Ras Na Nog, My First Stage Race
By Lucy Brown
On Saturday the 13th of April I woke up at approximately 6:45AM to drive to Bellewstown for my first ever stage race. I had been preparing for this race for weeks now with sprints, hill climbs, long distance rides and it was finally here. My training was tough I would go out for 30-40 miles rides around my house with endless hills with my dad.  Once a week I would go to titanic quarter and do an 11 mile lap 2 and half times with up to 6 sprints each lap. My dad and I would pick a hill near my house and climb it around 4 times timing me each time and trying to improve. On the days it rained I was stuck on the dreaded turbo trainer. But nothing could prepare me for the wind over my 3 stages at RAS NA NOG.
Stage 1 
My dad and I drove to Bellowstown race course on Saturday morning to compete in the first two stages of RAS NA NOG. It was a cold morning and very windy when we were signing on at 9:00AM but it only got worse. After signing on we got in the car and drove around stage 1 course which was a 1.7km lap of a closed off circuit. My race was at 11:30AM and it was 7laps and u14 girls were heading off with the u16 girls. It came to 10:30AM and it was time to warm up, I got my gear sorted and jumped on the rollers, it was hard as the wind nearly blew me off a few times. It hit 11:30AM and we were all lining up to start the race I could feel the butterflies in my stomach, the first lap was a sighting lap so when the whistle blew the race began. I was in a group of 5 girls and the wind was very strong, we didn't have much shelter from trees. It got to the last lap and we started to speed up, it was a sprint finish and I came out victorious, the winner of stage one, meaning I got the first leaders jersey.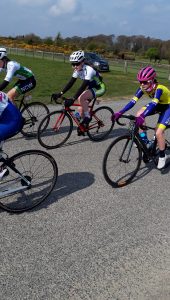 In the group with U14 AND u16 Girls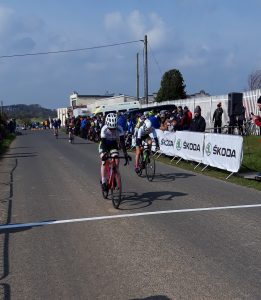 Finishing Stage 1 Leader
Stage 2
When I had finished stage 1 I got back on the rollers to cooldown. Then my dad and I had lunch and a short sleep in the car while we waited until 1:00PM for sign on for stage 2. It hit 1:00PM and I signed on, picked up my leaders jersey and headed back to the car to warm up. After I warmed up it had already 2:30PM and we were lining up for our 3 laps of a 6.6KM lap.  We were going off at the same time as the u14 boys which meant we had a bit more shelter from the wind. It was a very hilly course which was hard on my legs having already raced another race just a few hours before. It came to the last hill on the last lap and I was feeling exhausted but also excited as we were nearly finished, we had dropped everyone else in our group, it was just me and another girl from England. It was sprint time and my legs wouldn't take it but neither would hers, I tried to stand up but my legs fell back down. Unluckily I was beaten by less than a wheel length to the line, but I tried my hardest, got 2nd and I was still in the leaders jersey.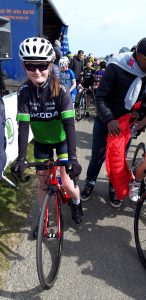 Start of Stage 2 In Leaders Jersey
Stage 3
Start Of Stage 3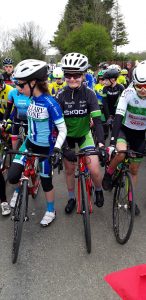 I woke up early on Sunday morning still feeling tired but excited as it was the last race and time to give it my all. We arrived at Bellowstown race course at around 9:00AM to sign on and collect my 2nd leaders jersey. Then we headed over to where stage 3 would be at. It was another course about 10 minutes from sign on. After getting over and driving around the course it was time to warm up, so I did my usual rollers and stretches and made my way over to the starting line. Once again, we were heading off with the u14 boys. The whistle blew and we were off. I was in group of about 5 girls and a few boys. This course was less hilly, not as windy as we were sheltered by houses and trees, but it was a longer course. We had to do 3 laps of a 7.7KM lap. For the last time that weekend it came to the sprint, I tried my hardest and secured 3rd place which put me on equal points as  another girl. Unfortunately the rules stated if you finished on equal points the last stage took precedence , so unfortunately I ended up coming 2nd.
In conclusion I really enjoyed RAS NA NOG and as my first ever stage race and first year in the u14 category, coming out with a 1st,2nd, 3rd, with 2nd overall and joint points with 1st overall I think that's a great achievement. My plans for going forward are that I would definitely do more stage races and I look forward to more RAS NA NOG'S to come.
Onwards and upwards from here, Lucy Brown
18th April 2019
by Peter Brown